© 2008 Ray Wong

Loosely based on Upton Sinclair's 1927 novel,
Oil
,
There Will Be Blood
is an intimate, close-up character study of a man driven by ambition, power and greed. And with Daniel Day-Lewis in the central role and Paul Thomas Anderson's direction, the film has a lot of promise.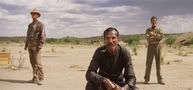 Daniel Plainview (Daniel Day-Lewis) is an oil prospector who goes from one place to another to help folks drill for oil. But he's not happy with just doing that. So when Paul Sunday (Paul Dano) gives him a tip on his family property, Plainview sets off with his son, H.W., to buy the property on false pretense. Soon, though, Plainview's true intention is revealed and he promises Eli Sunday (also Paul Dano) that he will give $5000 to Eli's church and help build up the town.
When Eli tells Plainview that he wants to bless the oil drill before they begin, Plainview agrees but later stiffs Eli. Then bad things happen -- workers get killed; H.W. gets hurt -- and Eli tries to convince Plainview that he is a sinner, and that he should join Eli's church. Plainview thinks Eli is a fraud and dismisses him completely. Not willing to work for anyone else, Plainview rejects an offer from the rail companies (which would have made him a very rich man) and decides to work with the oil union by building a direct pipeline to the coast. Meanwhile, his relationship with H.W. deteriorates as he doesn't know how to communicate and take care of his son anymore.

Daniel Day-Lewis (
Gangs of New York
) is one of the best actors of our times. His intensity is legendary. Here, as Daniel Plainview, Day-Lewis transforms himself in both speech and mannerism to portray a Texan oilman with perfection. He could do no wrong. He could do rage, insanity, solitude, and repressed love so effortlessly. The Best Actor Oscar is for him to lose.
The second biggest role in the film belongs to Paul Dano (
Little Miss Sunshine
) who plays brothers Paul and Eli Sunday. Dano first got our attention in that little film that could last year, and he is impressive playing a dual role opposite Daniel Day-Lewis. Their final confrontation is something to watch. And as Plainview's son H.W., Dillon Freasier has the expressive angelic face to make us care about him. Surprisingly, his character is the most multi-dimensional (Russell Howard plays the older H.W.). Kevin J. O'Connor (
Flight of the Living Dead
) gives a solid performance as a man who claims to be Plainview's brother, Henry.

However, the film really is a Daniel Day-Lewis Show. All the characters, including Eli Sunday (Paul Sunday disappears after his brief scene near the beginning), are peripheral next to Daniel Plainview. From the very beginning of the film to the end, it is clear that it's a biopic of Plainview, chronicling his descent from ambition to insanity.

Slow and deliberate, writer-director Paul Thomas Anderson's (
Magnolia
) script is a detailed character study, and Daniel Plainview is a fascinating figure to watch. The first twenty minutes or so are completely void of dialogue. It's true brilliance and reveals so much about Plainview's character. As the film progresses, we find out more and more about Plainview, with some startling discovery about his past and psychology. He is not evil, but he is a deeply flawed man, and somehow Anderson makes us care.
Anderson's direction is like poetry on screen. In addition to the spellbinding twenty minutes in the beginning, there are many other breathtaking scenes. The derrick fire, for example, is extremely well done, dramatic, and intense. In fact, the first half of the film, despite its slow pace, is intense and interesting.
However, the story loses some steam in the second half. Even as Anderson reveals more about Plainview's character, we don't sense that there's any change or development, just more revelations. We do see how the fractures in Plainview's personality start to crack. However, to me, the second half of the film loses certain narrative momentum. It's worsened by a time jump at the end, without a lot of explanation of what happened in those 16 years, which leads to an unsatisfying confrontation between Plainview and the grown H.W. The final scene between Plainview and Eli, however, is odd, absurd, but regains the narrative intensity earlier in the film. And the last line is brilliant.
I enjoyed
There Will Be Blood
very much and believe it's one of the finest films this year. Great cinematography that harks back to Hollywood's golden years, and a modernistic score that is perfect for the film. However, I think Anderson could have tightened the second act more and added more development at the end of the film to make this a true masterpiece. Even with its flaws, though, I predict for the film, there will be Oscars.
Stars:
Daniel Day-Lewis, Paul Dano, Kevin J. O'Connor, Ciarán Hinds, Dillon Freasier, Sydney McCallister
Director:
Paul Thomas Anderson
Writer:
Paul Thomas Anderson (based on the novel, Oil, by Upton Sinclair)
Distributor:
Paramount
MPAA Rating:
R for violence
Running Time:
158 Minutes
Ratings:

Script – 7
Performance – 8
Direction – 7
Cinematography – 9
Music/Sound– 8
Editing – 8
Production – 8

Total – 7.9 out of 10