© 2008 Ray Wong

Message movies are a rage now, from war-related films to Lifetime-type inspirational.
The Bucket List
unabashedly belongs to the latter, with themes ranging from mortality, life, regrets and male bonding.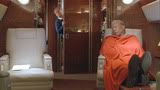 Carter (Morgan Freeman) is a mechanic and a grandfather who just discovers that he has cancer. During his treatment at the hospital, he is roomed with the hospital's owner, billionaire Edward (Jack Nicholson), a self-imposed bachelor who is also being treated with cancer. They form an unlikely friendship despite their differences in personalities, world views, and lifestyles.
When Carter and Edward discover that both their illnesses are inoperable and they only have months to live, they set out to create what Carter calls a "Bucket List" -- a list of things they'd like to accomplish before they, well, kick the bucket. After 45 years of losing himself in his job and family, Carter agrees to allow some free time for himself and go do all these "crazy things" with Edward, who professes to have always been married to his work. Together, they set out to see and experience the world. During that time, their friendship deepens and each learn a few things about life.
Jack Nicholson (
The Departed
) seems to play the same role over and over these days; he's possibly the most famously typecast actor in Hollywood. But. He does it so well. He callous, overbearing, loud and obnoxious tycoon is fun to watch. Likewise, Morgan Freeman (
Feast of Love
) also does his tried-and-true tricks as the solemn, deep and philosophical man, complete with a divine voice-over narration. Though both their roles are clichéd, these two legends succeed in working their own brands of thespian magic and manage to foster a genuine on-screen relationship that is key to the success of this sentimental take on It's a Wonderful Life.

The supporting cast includes Sean Hayes (
Will & Grace
) who puts in an understated but smart performance as Edward's deadpan yet quick-witted assistant. Beverly Todd (
Crash
) is wonderfully sincere and nuanced as Carter's concerned wife. Rob Morrow (
The Guru
) is rather wasted, though, as Edward's oncologist. Morgan's real son, Alfonso Freeman (
Ten 'Til Noon
) is very much the younger version of his father, and does a fine job with his brief role.

The script by Justin Zackham (
Going Greek
) is an admirable attempt in reminding us what life is about, even when we're senior citizens. However, the first half act of the movie (in the hospital) drags and could have been tightened up -- we really just want to see what kind of crazy things Carter and Ed are going to do. The movie picks up its pace once Carter and Ed are on the move. That's when the fun begins.

The character development is excellent and the unlikely relationship between Carter and Ed is handled nicely. However, peripheral characters are pushed on the side as we focus on Carter and Ed. There are times when the story and dialogue feels heavy-handed and preachy, especially when Carter is trying to philosophize what life means. Certain sections feel drawn-out and too sentimental, even for a movie like this.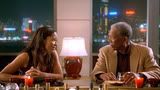 Even with the flaws of the script, director Rob Reiner (
Rumor Has It
) puts it together masterfully. Granted, there are scenes that do look too CG (the Taj Mahal, for example), and the pacing is off at certain points. But Reiner is a pro in bringing us stories of the heart, and here, he succeeds in making us really care and root for two geezers of different temperaments. Certain heart-felt scenes do put a lump in our throats even a as we attempt to fight such sentimentality. I mean, how can you not be affected when you're watching two good guys trying to make the best of everyone as they wait for death? There's a small twist at the end that is very touching.
So while the film is far from perfect and can use a tighter edit and benefit from a lighter and less preachy tone, it is surprisingly interesting, warm and inviting to make it into anyone's bucket list.
Stars:
Jack Nicholson, Morgan Freeman, Sean Hayes, Beverly Todd, Rob Morrow, Alfonso Freeman, Rowena King
Director:
Rob Reiner
Writer:
Justin Zackham
Distributor:
Warner Bros.
MPAA Rating:
PG-13 for language, including a sexual reference
Running Time:
97 Minutes
Ratings:

Script – 7
Performance – 7
Direction – 6
Cinematography – 8
Music/Sound– 6
Editing – 7
Production – 7

Total – 7.1 out of 10