© 2006 Ray Wong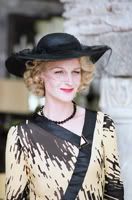 Oscar Wilde was known for his clever and witty plays. MRS. WINDERMERE'S FAN is no exception, and
A GOOD WOMAN
, is a worthy theatrical adaptation.
It is the 1930s. Mrs. Erlynne (Hunt) is an American seductress who lives lavishly through the many rich and powerful men in New York. The wives soon catch on, and the infamous Mrs. Erlynne is battered with bad reputations and debts. She turns her attention to a rich, young American couple, the Windermeres. She treks all the way to the coast of Italy, where the young couple currently resides, and is determined to start anew using her charm and sensuality.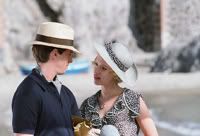 Within a short time, she befriends the dashing Robert Windermere (Umbers), who is at once taken by her mature sophistication. Robert starts to have secret meetings with Mrs. Erlynne and pays her large sums of money behind his wife's back. Meanwhile, Meg Windermere (Johansson) meets handsome Lord Darlington (Moore), the confirmed bachelor who immediately falls under the spell of beautiful and innocent Meg.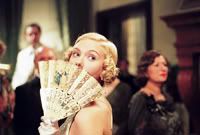 Lord Darlington, knowing Robert Windermere's secret, aggressively pursues Meg, but she is totally in love with her husband and refuses to oblige. Meanwhile, Tuppy (Wilkinson) is drawn to Mrs. Erlynne, a woman so unlike all the women he has ever met (or divorced). The women in town start to gossip, thinking they know more than they actually do. Soon Mrs. Erlynne's past catches up with her, and Meg begins to suspect her husband is having an affair with Mrs. Erlynne, whose secret is bigger and deeper than Meg realizes.
Hunt (
EMPIRE FALLS
) is in great form here, looking older but very sexy. She has a difficult job of playing a woman who is not entirely sympathetic and trustworthy, even though the character redeems herself at the end. Hunt's luminous performance is both subtle and showy at the same time. Johansson (
MATCH POINT
) again plays a young woman caught between lies and deceits around her. She does a good job, though it's far from being her best performance.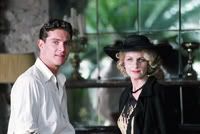 Wilkinson (
BATMAN BEGINS
) is warm and charming as the beguiling Tuppy, a man who knows what he wants and goes for it. Wilkinson's seasoned performance is remarkable. Umbers (
COLOUR ME KUBRICK
) does a fine job as the dashing Robert Windermere with a secret. Moore (
BRIGHT YOUNG THING
) plays the not-so-subtle Lord Darlington with charm and a touch of sliminess.
The script by Himelstein (
POWER OF ATTORNEY
) is a worthy adaptation of Wilde's play. It is a feast of words, wit and humor. The story's plot and structure are very clever, perhaps a little too clever at times. The audience is led to believe certain things, then it's revealed later that we've all thought wrong. It's easy to feel manipulated; at the same time, it's enthralling to see the mystery unveiled, and we can't help but marvel at Wilde's cleverness. Wilde's story, as well as Himelstein's script, is also a fascinating study of the social mores of the time. Still, the story has its drawback: its lack of real intimacy and deep emotions. The acting, however, helps bring the characters to life and make us care about them despite their superficiality.
Barker's (
TO KILL A KING
) deft direction leaves us with a lavish production of gorgeous landscapes and cinematography, beautiful costumes and luxurious sets. He also manages to navigate the intricate web of relationships, characters, and clever plot without bogging us down with inane and convoluted details. If the good-looking film still sounds and feels like a play, it's a good thing. It's a shame that, so far, this good film goes largely unnoticed even with its Oscar-caliber performances and production values.
Stars:
Helen Hunt, Scarlett Johansson, Tom Wilkinson, Stephen Campbell Moore, Mark Umbers, Milena Vukotic, Roger Hammond
Director:
Mark Barker
Writers:
Howard Himelstein (based on play, Mrs. Windermere's Fan, by Oscar Wilde)
Distributor:
Lions Gate
MPAA Rating:
PG for thematic material, sensuality, language
Running Time:
93 minutes
RATINGS:

Script – 7
Performance – 8
Direction – 7
Cinematography – 8
Music/Sound– 7
Editing – 7
Production – 8

Total – 7.3 out of 10