© 2006 Ray Wong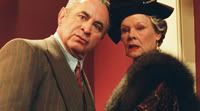 Last summer, I had the good fortune of seeing the Pageant of the Masters at Laguna Beach, and I learned that the idea of tableau vivants first started in Vaudeville to get away with nudity on stage. Therefore, I go to MRS. HENDERSON PRESENTS with great interest because of that subject, and the film surprises me.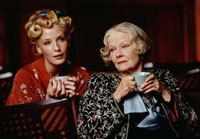 Newly widowed, Laura Henderson (Dench) inherits a lot of money but also a lot of free time on her hands. She is bored by the usual pastimes until she finds a little rundown theater in the West End of London. She impulsively buys the place and reopens it as the Windmill, a Vaudeville-like variety show theater. She hires an old pro, Vivian Van Damm (Hoskins), as the general manager. Their colorful, hot-headed personalities immediately clash, but their mutual respect for each other keeps them together.

When the theater fails to attract audiences, Mrs. Henderson has a peculiar idea of including nudity in the show. She consults Lord Cromer (Guest), who insists that nudity is against the law, unless it's done in an artistic format and if the "models" do not move. That gives Mrs. Henderson a grand idea of creating nude, artistic tableaus on stage. At first, the cautious Van Damm objects to the idea, thinking it's too risky. But when he finds his muse in the beautiful and feisty Maureen (Reilly), he's sold. The theater becomes a hit, then later becomes a staple in war-torn London, until tragedy strikes…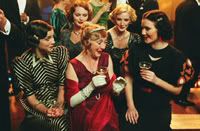 Dench (PRIDE & PREJUICE
) is delicious as the outspoken, lively Mrs. Henderson, worthy of her Oscar nomination (Best Actress). Her brassy yet nuanced performance reminds us of the reason why she is one of the best actor's actors in the world. She brings the ever-optimistic, take-no-prisoner Mrs. Henderson to life and earns our sympathy and care. Behind that strong outer shell is a warm and vulnerable woman, and Dench does a remarkable job making us believe. Hoskins (SON OF THE MASK
) is also remarkable as Van Damm, the equally bossy but soft counterpart to Mrs. Henderson. Hoskins, ever the quintessential character actor, doesn't get a lot of chance playing leads, but here, he more than holds his own opposite Dench.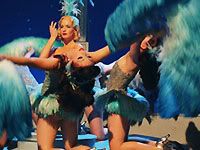 British Pop Idol Young plays Van Damm's long time collaborator Bertie with innocence and charm. His singing voice is immaculate. Reilly (PRIDE & PREJUDICE
) is effervescent as the strong-headed Maureen, one of the "nude" stars at the Windmill. Barlow (SWEET CHARITY
) is affecting as Mrs. Henderson bubbly confidant, Lady Conway. Comedic writer-director-actor Guest (A MIGHTY WIND
) does an impressive dramatic turn as the stiff Lord Cromer.

Based on "true events," Sherman's script has sharp dialogue, especially the bickering between Henderson and Van Damm. The events unfold naturally, and the entire story has a humorous tone. Director Frears (DIRTY PRETTY THINGS
) has put together a nice production with an equal mix of barbs, humor, and heart. The costumes are gorgeous (also an Academy Award nomination). There are key scenes that are rather emotional. Then there are some quiet, effective scenes that remind me of the beautiful CINEMA PARADISO.
The music is lovely and the singers, especially Young, do wonders with the musical numbers.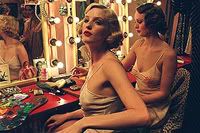 What is a film about Vaudeville tableaus without nudity? The women are definitely eye candy, what with their beautiful bodies and faces. Yet, the nudity is only secondary in the film, nothing gratuitous. The story and the characters are the focus. Some parts of the film do drag, and other parts border on melodramatic. But over all, I find the film entirely enjoyable and touching, and the performance wonderful by all the leads. Mr. Frears has presented us a little gem of a film about a woman who is not only larger than life, but is full of life herself.

Stars:
Judi Dench, Bob Hoskins, Will Young, Kelly Reilly, Thelma Barlow, Christopher Guest
Director:
Stephen Frears
Writers:
David Rose, Kathy Rose, Martin Sherman
Distributor:
The Weinstein Company
MPAA Rating:
R for nudity, language
Running time:
103 minutes

Script – 7
Performance – 8
Direction – 7
Cinematography – 8
Music/Sound– 9
Editing – 7
Production – 8

Total Score – 7.8 out of 10