© 2006 Ray Wong

Based on Lewis Padgett's short story,
The Last Mimzy
is a science fiction with children as its protagonists. While not really a children's story, it is suitable for children of all ages.
Noah Wilder (O'Neil) is a ten-year-old with a vivid imagination. Craving his busy father's attention, Noah loses interest in school and is lagging behind, especially in Math and Science. During a family weekend getaway at their beach house, Noah and his younger sister, Emma (Wryn), find a strange box that contains a few strange "toys," including a stuffed bunny. Emma immediately becomes "friends" with the bunny and calls her Mimzy, as if the toy actually is talking to her.
Soon, Noah and Emma discover they're starting to have superpowers. Noah's intelligence and new-found academic excellence surprise his parents (Richardson and Hutton) as well as his Science teacher, Larry (Wilson). Larry and his New-Age girlfriend Naomi (Hahn) realize that something is very special about Noah and Emma. Confused and scared, however, the Wilders forbid the children from playing with the toys. Noah's defiance results in a blackout across the state of Washington, and the Feds are hot on their trail. Meanwhile, Noah and Emma discover that Emma has a destiny to fulfill.
Newcomer Chris O'Neil does a wonderful job as Noah. He has a very natural ability to convey emotions and deliver his dialogue, and he's extremely likable as the unlikely hero. Rhiannon Leigh Wryn (
Hulk
) also is very agreeable as the little girl who is about to save humanity. I tend to dislike child-actors who overact, but O'Neil and Wryn both do a fine job here.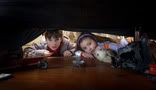 Joely Richardson (
Nip/Tuck
) is solid as the children's loving and concerned mother. She really does have a good rapport with the kids. Together with Timothy Hutton (
The Good Shepherd
) -- who does a good job as well -- they give the film a nice balance, and something for the adults to relate to. Rainn Wilson (
The Office
) and Kathryne Hahn (
The Holiday
) are perfect together as the zany couple who come to the children's aid. The only sore casting is Michael Clarke Duncan (
Talladega Night
) as Agent Broadman. He seems out of place, and his character contributes to some of the film's most silly plot holes.

The writers have done an okay job adapting and expanding Padgett's SF short story. The film opens with a prologue and ends with an epilogue, which seem a bit tagged on. And the story unfolds too slowly, losing our interest at various places. They try to introduce the characters and their relationships with each other, but they still feel two-dimensional. The story picks up when the children discover the toys. The dialogue is typically family-oriented, leaning a bit on the "info dumping" side. I believe the narrative could have been stronger if they would integrate these information more effectively with the plot.

Producer-director Robert Shaye (
Book of Love
) hasn't directed a film since 1990, and it shows. His pacing is off and sometimes meandering, and there are scenes that feel silly and incoherent. There are plot holes along the way, and parts of it are out of character just to move the plot along. There's just not enough tension to keep us interested at all times. The ending is also predictable.

However, as a family film,
The Last Mimzy
does offer ample entertainment with a good message. Its sci-fi themes should interest fans of SF&F stories. It has enough story to keep the adults interested while engaging the youngsters with something for their lasting imagination.
Stars:
Chris O'Neil, Rhiannon Leigh Wryn, Joely Richardson, Timothy Hutton, Rainn Wilson, Kathryn Hahn, Michael Clarke Duncan
Director:
Robert Shaye
Writers:
Bruce Joel Rubin, Toby Emmerich, James V. Hart, Carol Skilken (based on short story by Lewis Padgett)
Distributor:
New Line
MPAA Rating:
PG for some thematic elements, mile peril and language
Running Time:
94 Minutes
Ratings:
Script – 7
Performance – 7
Direction – 7
Cinematography – 7
Music/Sound– 6
Editing – 6
Production – 7
Total – 6.6 out of 10