© 2007 Ray Wong

Once upon a time, there was a magic kingdom that gave us memorable tales such as
The Little Mermaid
,
Beauty and the Beast
,
Aladdin
, and
The Lion King
. Then the kingdom was enshrouded by evil and went through a decade of darkness. Until now, when a shred of light lifts the kingdom from this darkness in the shape of a film called
Enchanted
.
Giselle (Amy Adams) is our typical fair maiden in the kingdom of Andalasia who dreams of her true love's kiss. Then Prince Edward (James Marsden) comes and rescues her from a troll, and they fall in love (fairytale-style) and are getting married "the next morning." However, Edward's stepmother, Queen Narcissa (Susan Sarandon) is determined to stop the wedding because once Edward gets married, she will have to give up her throne. Scheming with Edward's henchman, Nathaniel (Timothy Spall), Narcissa pushes Giselle into a wishing well into another world where there is no "happily ever after": New York City.
Displaced and confused, Giselle wanders the streets until she meets divorce lawyer Robert (Patrick Dempsey) and his young daughter Morgan (Rachel Covey). Believing Giselle has a screw loose in her brain (what with singing, dancing, making clothes out of curtains), Robert is about to send Giselle away when her charms melt his hard shell. Despite the fact that Robert is about to propose to his girlfriend of five years, Nancy (Idina Menzel), he is a skeptic about love and the "happily ever after" nonsense. But Giselle is slowly changing his mind.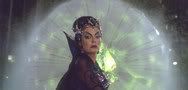 Eventually, Prince Edward enters the real world trying to rescue Giselle. As Edward's getting closer and closer to finding Giselle, Narcissa schemes to stop it once and for all by killing Giselle with some poisoned apples. Will Giselle find her true love? Will Narcissa succeed?

If the story sounds clichéd and predictable, it is. But that's absolutely the point and charm of this tongue-in-cheek romantic comedy. Disney succeeds in poking fun at itself with such self-referential humor. Anyone who has loved or hated any Disney films would have recognized many inside jokes and self-deprecating jabs in the story.

Amy Adams (
Underdog
) is radiant and wonderful as Giselle. Her naiveté and innocence are infectious. She's the sole reason why we can suspend our disbelief and willingly follow her journey. Her singing voice is also a revelation. We believe, truly, that she is the fairytale princess. Patrick Dempsey (
Freedom Writers
) pales compared to the effervescent Giselle, but that's okay. He has the tough job of playing the cynical straight man. The fact that he and Adams have a wonderful chemistry together more than makes up for his relative blandness.

On the contrary, James Marsden (
Hairspray
) has a ball playing the over-the-top Prince Edward. He has some of the best lines and he plays the role with such joyous child-like quality that you can't help but like him even though he's such a bonehead. Furthermore, he really can sing! Timothy Spall (
Harry Potter and the Goblet of Fire
) is very good as the henchman. Rachel Covey (
Duane Hopwood
) is sweet as Robert's daughter but Idina Menzel (
Rent
) is underused. Susan Sarandon (
In the Valley of Elah
) goes all out playing Narcissa, reminding us of several of Disney's most infamous villainesses: Maleficent, Ursula and the Evil Queen in
Snow White
.

The script by Bill Kelly (
Premonition
) is incredibly tongue-in-cheek and self-referential. It really is a simple "fish out of water" concept, and yet the story works so well because it's made by Disney. Like the original
Shrek
, the story pokes fun at fairytales, especially those Disney has made famous. One doesn't need to look hard to find traces of classics such as
Little Mermaid
,
Cinderella
, and
Sleeping Beauty
. What is amazing is that Kelly is able to put it all together in an entertaining, uplifting format that delights kids and adults, men and women alike. The movie tested really well with males from age 18 to 35 -- that says a lot given the genre. And much of it has to do with the humor and stellar performances from the leads.

Director Kevin Lima (
102 Dalmatians
) inserts his own brand of optimism in the film. The 2-D animation at the beginning harks back to Disney's golden days. We don't see much quality hand-drawn animation anymore, and it is such a treat. When the action moves to New York City, the film switches gear but maintains its cockeyed optimism. There were a few hilarious scenes (one involves hordes of city rats, pigeons, flies and cockroaches). Songwriters Alan Menken and Stephen Schwartz team up again and deliver some really catchy songs, and the soundtrack is outstanding. The production numbers are a joy to watch. In fact, when the fairytale characters break out into a song, it leaves us grinning. Sure, the story is predictable (oh, c'mon, did you really not expect the famous happy ending? This is Disney, after all). Granted, the ending goes a bit too long, but the simplicity of the story is precisely what makes the film work so well.
With its simple yet affecting story, wonderful performances, catchy songs, and a beautiful production, this movie truly is a treat to enchant the entire family.
Stars:
Amy Adams, Patrick Dempsey, James Marsden, Timothy Spall, Idina Menzel, Susan Sarandon, Rachel Covey
Director:
Kevin Lima
Writer:
Bill Kelly
Distributor:
Walt Disney
MPAA Rating:
PG for some scary images and mild innuendo
Running Time:
107 Minutes
Ratings:

Script – 8
Performance – 8
Direction – 8
Cinematography – 8
Music/Sound– 9

Editing – 7
Production – 8


Total – 8.1 out of 10