© 2007 Ray Wong

The Brave One
is a unique take on the vigilante/revenge genre. Certainly it touches on the common themes of loss, rage, and taking justice in one's hands--all told from a woman's point of view.

Erica Bain (Jodie Foster) is a radio talk show host in New York City. She seems to have it all together: a loving fiance (Naveen Andrews), a great job, a nice apartment, and a cool dog. But everything comes to a halt as Erica and David suffer a senseless attack in a park, leaving Erica severely injured and David dead.
The aftermath leaves Erica not only physical but also emotional scars. After the initial adjustment to post-traumatic syndromes, she tries to move on. Paranoid and fearing for her safety, she buys a gun for protection. A series of events enable Erica to see herself in a new light, and somehow she's changed. To her, she's become a different person. A detached, vengeful woman who prefers to take matters in her own hands.
Investigating a series of related homicides, Detective Mercer (Terrence Howard) quickly turns his attention on Erica. He's at once in awe with her intelligence, compassion and self-reliance. At the same time, something feels off, and Mercer begins to suspect that Erica might be hiding something--something more sinister than he ever imagined, even as a cop. His investigation leads him to become closer to Erica, before he discovers what really is going on.

Jodie Foster (
Flightplan
) pretty much has a lock on the tough, determined, conflicted action heroines. Her square jaws and steely eyes do half the work already. She commands the screen from scene one and never really lets the audiences go. It's amazing to see her transformation from a happy-go-lucky, loving person to a detached, cold killer. At the same time, she shows tremendous vulnerability and conflict to make her character real, and not one of those two-dimensional action figures.

Terrence Howard (
Pride
) also does a fine job bringing the good cop to life. Where he trails Foster in the intensity department, he makes it up with warmth and humor. Although we don't know much about his character, he gives us enough to chew on--a three-dimensional character that has its own demons. Howard succeeds in making us believe in the character, and that is crucial for the improbable ending to work.

Supporting cast includes Nicky Katt (
Planet Terror
) as Mercer's partner, Detective Vitale; Naveen Andrews (
Planet Terror
) in a brief by pivotal role as Erica's fiance, David; and Mary Steenburgen (
The Dead Girl
) as Erica's slightly unsympathetic boss. They all do good, if brief, work. The movie rests squarely on Foster's and Howard's respective shoulders.
Written by a trio of mostly TV writers -- Roderick Taylor (American Outlaws), Bruce A. Taylor (
Open Graves
) and Cynthia Mort (
Will & Grace
) -- the screenplay is suspenseful and tense. The plot is rather predictable, especially if you already know about the premise. What excels in the script is the character development, which is rare in an action-thriller. The dialogue is thought-provoking and the situations real enough to give us chills and to make us look behind our backs. The screenwriters also make a good decision to focus the story on the two lead characters. While the pacing might lags at times, the tension never falters.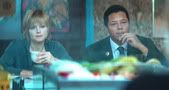 Director Neil Jordan (
Breakfast on Pluto
) is a skillful filmmaker, and his talent is evident in every frame. Technically the film is exceptionally crafted -- the camera angles, the close-ups, the colors, the lighting, the sets all work together, giving us a sensorial feast and drawing us into the story. The pacing gets a little slow at places, but Jordan also allows time for the characters to move and interact and surprise. He succeeds in showing us the despair, loneliness, anguish, and frustration through his impeccable vision. The result is a taut introspective thriller with a heart and soul.
The story does hit us rather heavy-handedly with its central themes -- is it ever okay to take justice in our own hands? What does it mean to be right or wrong, good or bad? There's a scene in the film that borders on preachiness as Erica answers calls from listeners. Thankfully, the story doesn't linger in that debate. Instead, it lets the action show us, then leave us to make up our own minds. We may not agree with what the characters do, but we understand them. And we do ask the same questions Erica Bain asks over and over again: What would you do if fear stares you in the face and rips your life away from you? What would you do? Is it worth the cost? It is an interesting, moral question: What does it mean to be the brave one?
Stars:
Jodie Foster, Terrence Howard, Nicky Katt, Naveen Andrews, Mary Steenburgen
Director:
Neil Jordan
Writers:
Roderick Taylor, Bruce A. Taylor, Cynthia Mort
Distributor:
Warner Bros.
MPAA Rating:
R for strong violence, language, nudity and sexuality
Running Time:
119 Minutes
Ratings:
Script – 7
Performance – 8
Direction – 8
Cinematography – 8
Music/Sound– 7
Editing – 7
Production – 8
Total – 7.8 out of 10