© 2007 Ray Wong
It's inevitable: Adhering to Hollywood tradition, the third outing of Shrek and company is bigger, louder, and packed with mythical characters. Does it mean it's better? Let's see.
Shrek (Mike Myers) and Fiona (Cameron Diaz) are resigned to their temporary royal duties and lifestyle when Fiona's father, King Harold (John Cleese), falls ill. After the King dies, Shrek is to be King but he just wants to go back to his swamp. Accompanied by loyal friends Donkey (Eddie Murphy) and Puss in Boot (Antonio Banderas), Shrek sets off to find Artie (Justin Timberlake), Fiona's distant cousin, and coerce him to become the new King instead.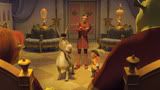 Meanwhile, Prince Charming (Rupert Everett) is scheming to take back "his" kingdom. He recruits all the villainous outcasts and stages an attack on Far, Far Away, capturing Fiona and her friends. He plans to lure Shrek back to the castle and kill him in front of everyone.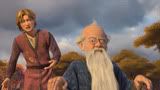 At the same time, Shrek has to deal with the news that Fiona is pregnant. The impending fatherhood scares Shrek, and he fears that his simple life will never be the same again.
The usual suspects all do a good job reprising their roles as the lovable characters. Mike Myers (
Shrek 2
) is a bit subdue as Shrek settles down. Eddie Murphy (
Dreamgirls
) is still funny as Donkey. Cameron Diaz (
The Holiday
) is lovely and spunky as Fiona. And Antonio Banderas (
The Legend of Zorro
) is a worthy forth wheel.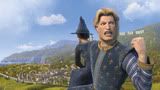 The returning cast includes Julie Andrews (
The Princess Diaries 2
) as the regal Queen Lillian, who shows some fighting skills this time around; John Cleese (
Charlotte's Web
) as the dying Frog King; and Rupert Everett (
Separate Lies
) as the vain Prince Charming. New to the cast are Justin Timberlake (
Alpha Dog
) as teenage Artie, and Eric Idle (
Ella Enchanted
) as zany Merlin. Funny ladies Cheri Oteri (
The Ant Bully
), Amy Poehler (
Blades of Glory
), Amy Sedaris (
Strangers with Candy
) and Maya Rudolph (
A Prairie Home Companion
) are Sleeping Beauty, Snow White, Cinderella, and Rupunzel respectively. There are too many cameos to list here.
Written by a large group of writers headed by Andrew Adamson (
The Chronicles of Narnia
), the story is actually rather simple, with three subplots going on in parallel, then coming together at the end. The writers have done a good job keeping the story clutter-free, considering the huge cast of characters, by focusing on the main characters and the three subplots. The main theme of "be who you are" continues through this film. They also succeed in giving us some unique and funny characters.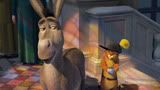 There are many funny moments, including a hilarious fight scene involving the Princesses, and a side-splitting one involving Gingerbread Man and Pinocchio being interrogated by Prince Charming. Fortunately, there are also some quiet moments to help develop characters. The scenes with Artie and Merlin, however, somehow drag and feel flat. Also, for once I'd like to see less bathroom humor and fart jokes -- I know, they are funny... for six-year-olds, perhaps.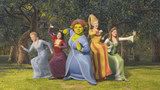 Directed by Chris Miller and Raman Hui (
Fat Cat on a Diet
), the film thankfully avoids going down the frantic path. Over all, the film strikes a good balance between comic action and quiet, introspective scenes. That's a pleasant surprise. The animation is gorgeous, and advance technologies have enabled huge improvements in giving the characters facial expressions and fluid motions. It's impressive. The colors are vibrant and the sceneries are wonderful eye candy. Unlike in the first two films, however, the soundtrack is somewhat lacking. The editing gets choppy sometimes as well.
Let's just say I came into the theatre expecting an overblown, overproduced, overloud production and came out pleasantly surprised. I had fun, and the film made me laugh and think at the same time. That's not an easy task given we've seen these characters before. The film clearly sets its aim at a wide audience -- adults, children, families -- but they managed not to dumb it down too much. While not as original and poignant as the first movie,
Shrek the Third
exceeds my expectations and is even better than the second one.
Stars:
Mike Myers, Eddie Murphy, Cameron Diaz, Antonio Banderas, Julie Andrews, John Cleese, Rupert Everett, Eric Idle, Justin Timberlake
Directors:
Chris Miller, Raman Hui
Writers:
Andrew Adamson, Howard Gould, Jeffrey Price, Peter S. Seaman, J. David Stern, David N. Weiss, Jon Zack (characters based on William Steig's book)
Distributor:
DreamWorks, Paramount
MPAA Rating:
PG for some crude humor, suggestive content, and swashbuckling action
Running Time:
92 Minutes
Ratings:
Script – 7
Performance – 7
Direction – 7
Animation – 9
Music/Sound– 7
Editing – 6
Production – 9
Total –7.5 out of 10