© 2006 Ray Wong
The marketing of
The Break-up
has us believe that it is a laugh-out-loud romantic comedy. In fact, the film is a serious drama that is often unpleasant and petty.
Gary (Vaughn) is the star of the Grobowski Brothers Tours in Chicago. He is funny, charming, and outgoing. Apparently, art dealer Brooke (Aniston) sees the same lovable qualities in the man and she dumps her boyfriend for Gary. They buy a beautiful condo and move in together.
But paradise doesn't last forever. Soon the differences between Brooke and Gary become so unbearable that after a dinner party with both families, a fight between the couple escalates and Brooke calls it quit. Unfortunately, neither of them can afford or is willing to move out. The living situation turns in to a bitter war between the ex-lovers. The fact is, Brooke doesn't really want to leave Gary; she simply wants him to change for fear of losing her. Gary doesn't want to leave either, but he's too proud to apologize and admit that he's in the wrong, and he doesn't think Brooke cares. Their battles become not a war to get rid of each other, but one to hang on to their relationship.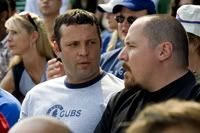 Vaughn (
Wedding Crashers
) has, in recent years, reinvented himself as a great comic actor. We tend to forget that he has talents in dramas as well. In a way, Vaughn wants to remind us that he could do both in
The Break-up
. In all fairness, Vaughn is a strong player in the movie -- it is one of his better performances. Unfortunately, his character is so selfish, self-absorbed and clueless that it's hard to sympathize with him. Likewise, Aniston (
Friends with Money
) tackles her character with wit and heart, but try as she may, Brooke comes off as whiny, manipulative and self-pitying. While the two leads have great chemistry together, we simply don't get enough of the "love" between them to care about their petty break-up. In fact, at times, we just want to scream, "Move out and get it over with already." And that's the major flaw of this good-intentioned film.
The film rests heavily on Vaughn and Aniston. The supporting characters are largely caricatures. Adams (
Love, Fear and Rabbits
) is the Jiminy Cricket character as Brooke's friend Maddie. Hauser (
The Cave
) plays Gary's philandering brother with typical smugness. Favreau (
Wimbledon
) has some of the funniest lines, but his gruff best-friend role is contrived as well. Unfortunately, none of these characters are well-developed; they're only footnotes and sidebars.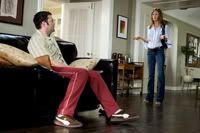 In addition, Bateman (
Dodgeball
) has a good, brief show as the voice of reason that has an ulterior motive. Davis (
Marie Antoinette
) is outrageous as the eccentric artist, Marilyn Dean, and Long (
Dreamland
) plays a stereotypically gay assistant. Ann-Margret (
Tales of the Rat Fink
) has a cute cameo as Brooke's mother and D'Onofrio (
Thumbsucker
) is interesting as Gary's uptight brother. The standout is Higgins (
Fun with Dick and Jane
) as Brooke's song-and-dance-loving, supposedly "gay" brother, Richard. The scenes with Higgins and Vaughn are hilarious. Unfortunately, none of these characters are given enough opportunity to shine and develop.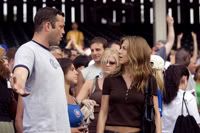 The screenplay by Garelick (
Is This Your Mother
) and first-time writer Lavender is surprisingly dark and petty. Reed (
Down with Love
) is adequate as director. The story opens with enough innuendoes and humor to keep us amused, but as Brooke and Gary engage in a head-on psychological war, the story becomes tedious and insufferable. The leads become increasingly unappealing. Such cruel development would work in a satirical piece such as Michael Douglas' classic
War of the Roses
. Unfortunately, the filmmakers try too hard to be "real" here that the result quickly becomes a dreck. It's never fun watching two people fight about petty things, especially when the solution is so obvious to everyone else. Yes, the film is entitled
The Break-Up
, but if the writers had devoted more time developing the characters and the relationship between then before the break-up, it would be a more balanced and satisfying film.
Stars:
Vince Vaughn, Jennifer Aniston, Joey Lauren Adams, Cole Hauser, Jon Favreau, Jason Bateman, Judy Davis, Justin Long, John Michael Higgins, Ann-Margret, Vincent D'Onofrio
Director:
Peyton Reed
Writers:
Jeremy Garelick, Jay Lavender, Vince Vaughn
Distributor:
Universal
MPAA Rating:
PG-13 for language, nudity, sexual content
Running Time:
109 minutes

Ratings:

Script – 6
Performance – 7
Direction – 7
Cinematography – 7
Music/Sound– 5
Editing – 6
Production – 7

Total – 6.5 out of 10