© 2006 Ray Wong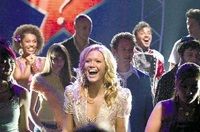 Paul Weitz's America interestingly resembles the America we know today: a not-so-bright President, a megalomaniac TV host, a pop culture craze that sweeps through the land, and terrorists. The result is a hodgepodge of good-nature ribbings.
Martin Tweed (Grant) is the producer and host of America's number one show,
American Dreamz
(with a Z). He's not satisfied with simply being at the top; he wants the show to be on top forever. He is constantly looking for contestants – freaks, as he puts it – that have stories that would tug at the audiences' hearts. Meanwhile, President Staton (Quaid) has an identity crisis after winning the reelection. He refuses to make any public appearances and the people are speculating that he's gone bonkers. His Chief of Staff (Defoe) coerces him to become the celebrity judge on American Dreamz as a public relations stunt.
Tweed finds his contestants in a number of wannabes, including Sally Kendoo (Moore), a "white trash" girl from a small town in Ohio whose devoted boyfriend, William Williams (Klein) is a decorated veteran. Sally would do anything to win. Then there is Omer (Golzari), an Iraqi immigrant who is secretly part of a terrorist cell. His mission is to infiltrate
American Dreamz
and assassinate the President through a suicide bombing. In truth, while Omer wants to avenge his mother's death, he's confused. He really just wants to be a singer, and
American Dreamz
is truly a dream come true.
The huge cast seems to have a great time making this movie. Grant (
Bridge Jones
) once again plays a charming sleazebag to perfection. His ruthless, narcissistic Tweed is like a train wreck – you simply can't take your eyes off of him. Quaid (
Yours, Mine and Ours
) has a great time playing the befuddled, confused and good-natured President. I think he's found a new niche. Moore (
Saved!
) plays a sweet-looking country girl with ambition and callousness to spare. She is the exact mirror image of Grant's Tweed, and they play off each other very well. Relative newcomer Golzari (
The Break
) brings us a breakout performance as the loveable Omer who just wants to sing. He's good.
Defoe (
Inside Man
) is adequate as the manipulating Chief of Staff, but his performance mostly serves a comedic purpose. Klein (
Just Friends
) is dead-on as Sally's loyal, albeit dumb-as-a-nail, boyfriend. Coolidge (
Date Movie
), Harden (
American Gun
), Meyers (
Perception
), Cho (
In Good Company
), Greer (
Full Disclosure
) and many more lend their unique talents to the production.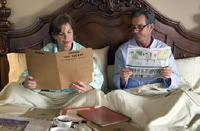 Director Weitz (
In Good Company
) aims to ridicule, but not necessarily offend, everyone. From Britney Spears to the folks at
American Idol
, from the White House to Iraq, from Muslims to good old Christians, Weitz makes sure he covers everyone. His script is all over the place, telling a lot of stories in a very short time, but he manages to keep his pace and his style consistent. Some of the humor goes over very well, and the satirical sarcasm comes out perfectly.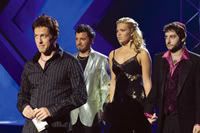 Not everything works, though. With a broad comedy like this, sometimes Weitz relies too much on stereotypes and caricatures to draw laughs. Defoe's character, for example, is too two-dimension to make any real impression. And the ending is forced and rather abrupt. But kudos to Weitz for bring all these current events together and giving us an opportunity to laugh at ourselves. Wars, terrorism, and the state of our country are real issues that affect us every day, but to be able to laugh in the middle of everything that is going on is the only American way.


Stars:
Hugh Grant, Dennis Quaid, Mandy Moore, Willem Dafoe, Chris Klein, Jennifer Goolidge, Sam Golzari, Marcia Gay Harden, Seth Meyers, John Cho, Judy Greer
Director:
Paul Weitz
Writer:
Paul Weitz
Distributor:
Universal
MPAA Rating:
PG-13 for brief language and some sexual references
Running Time:
107 minutes
Script – 6
Performance – 7
Direction – 6
Cinematography – 7
Music/Sound– 7
Editing – 7
Production – 8

Total – 6.9 out of 10